Virtual Reality Lab
The VR Lab @ Laupus Library is a virtual reality learning and development workspace that includes five state of the art virtual reality workstations and is available to ECU students, staff, and faculty.
The lab is located on the second floor of the library past our Computer Lab. Please note that ECU Transit now offers on-demand service to the Health Sciences Campus.
We also offer virtual reality headsets for personal loan.
---
Please note that the VR Lab needs to be reserved 1 day in advance.
Using the VR Lab
The stations may be reserved individually or together for group or class projects. For users needing help developing programs or VR renderings, expert consultations are available upon request.
To use the facility, each VR user must attend a short orientation session, for which one can sign up in advance or stop in during our normal hours of operation. Please contact vr@ecu.edu if you have questions or would like to request an orientation session. Observers are not required to take orientation.
Rules of the Room
Users must be ECU faculty, student, staff, and/or be able to provide proof of having an active Pirate ID.
Non-ECU affiliated users must be accompanied by an ECU faculty, student, staff, and/or someone who can provide proof of having an active Pirate ID. That person is the non-ECU affiliated user(s) "sponsor", and must remain physically present in the VR Lab for the entire time the non-ECU affiliated user(s) are present.
VR lab equipment is not recommended for users under 13 years of age. Requests for users who are under 13 year of age will be considered on a case by case basis.
Food and beverages are not allowed to be consumed while using the VR Lab equipment. Observers may have beverages as long as the container has a lid.
The VR Lab will accommodate 5 people using VR headsets. Observer occupancy is limited. When reserving this space it is important to work with the VR Lab Manager, Doug Barnum to determine if the Laupus VR Lab can adequately accommodate your group.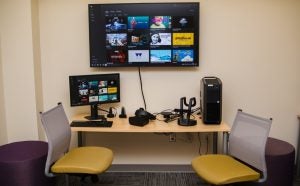 The configuration for the 5 workstations is 5 Meta Quest 2 headsets attached via Quest Link, for training, workshops and other uses. Each VR workstation is powered by an Alienware Aurora R8 gaming PC. Workstation specs below:
Alienware Aurora R8 Desktop Gaming PC

Intel Core i7 8700 processor (6-core, 12MB Cache, up to 4.6GHz)
16GB DDR4 2666MHz memory
NVIDIA GeForce RTX 2070 w/ 8GB GDDR6 graphics

Dell 24-inch desktop gaming monitor
NEC 55-inch wall-mounted display
VR Apps Available
We offer a wide variety of software for use in our VR lab. Plus, our Oculus Rift S and HTC VIVE Pro headsets have access to hundreds of other titles, so if you know of an app that would be beneficial to you or your program, please complete the app request form below.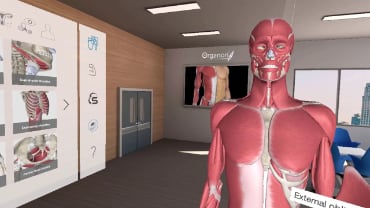 3D Organon
3D Organon by Medis Media allows learners to delve into the deepest levels of human anatomy.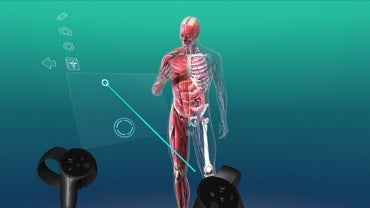 Sharecare VR
Sharecare VR allows anyone to freely navigate and explore an anatomically accurate 3D model of the human body, its organs, and their natural function. Visualize how your body works. Explore organs and systems in a fully immersive 3D environment.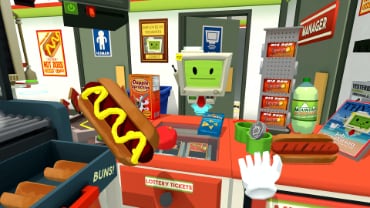 Job Simulator: The 2050 Archives
Job Simulator: The 2050 Archives is a virtual reality simulation video game in which players participate in comical approximations of real-world jobs.
---
You can also view our full list of virtual reality apps.
We also offer help creating custom virtual reality programs or renderings. Please email vr@ecu.edu for more information.
The Laupus Library VR Lab is proud to support the approved "Castle to Classrooms" NEH grant.