Health Sciences faculty writers benefit from Laupus Professional Writing Consultant services
As Laupus Library's Professional Writing Consultant, Dr. Kerri Flinchabugh assists faculty writers from Brody School of Medicine, Allied Health Sciences, Nursing, Dental Medicine, and Laupus Library with projects such as peer-reviewed articles, grant proposals, conference presentations, and other scholarly writing projects.
---
Writing Consultations
Dr. Flinchabugh works with faculty writers from the health sciences through writing consultations to strengthen their works-in-progress by sharing feedback, strategies, and resources for developing healthy, sustainable, and productive writing habits.
When working with faculty writers, Dr. Flinchbaugh aims to do more than just read and respond. She approaches her work as a community-building exercise. "Laupus Library is a one of those unique places in a university where faculty from many different disciplines come together", Kerri explains. "I believe the most innovative, interesting, and creative ideas come from interdisciplinary collaboration… I bring a different frame of reference to writing projects, a unique perspective."
Kerri offers a cultural rhetorics lens along with a vault of writing resources to each consultation, engaging in reader-response feedback and working to identify patterns of errors that are unique to each writer and project. "Just talking about a piece of writing, having a conversation about it, can help improve it," Kerri explains. She aims to help faculty identify and develop healthy, sustainable, and productive writing habits and practices. "What these faculty writers do is important. I want to help amplify faculty writers' visions and voices," Flinchbaugh explains.
While she is available to meet with faculty writers from the health sciences with face-to-face or online (synchronous or asynchronous) appointments, Kerri also offers both Writing Accountability Groups and Critical Friends peer review sessions for grant writers on a regular basis.
Laupus Library is a one of those unique places in a university where faculty from many different disciplines come together.
- Dr. Kerri Flinchabugh
Writing Accountability Groups
Writing Accountability Groups (WAGs) provide the structure of a committed group to touch base with on a regular basis while using principles of motivation, goal setting, and social support to help writers make consistent progress. Most groups meet once a week for 2 to 3 hours, much of which they spend writing. Kerri explains that WAGs make sense for busy academics as they help writers strategize and get the most out of their writing time.
WAGs have also been a part of the health sciences campus before Kerri started offering virtual WAGs, during March 2020. Dr. Kim Skarupski from Johns Hopkins has visited Greenville on more than one occasion, and her book and website provide wonderful resources for starting a WAG. Kerri works as a WAG facilitator while also building a 'do it yourself' WAG model that faculty can easily use to start their own group.
Critical Friends Events
In collaboration with the University Writing Program, Kerri offers Critical Friends events a couple times during the fall and spring semesters. "Critical Friends is a peer review protocol that I learned about from Dr. Deby Tyndall from the College of Nursing," Kerri explains. Writers share their work ahead if time, and each grant receives an equal amount of time for response during an online meeting. In this context, a Critical Friend is a trusted person who asks provocative questions and offers mindful critique as a supportive peer.
Each event is an opportunity for faculty grant writers to read each other's work and respond, supporting the development of specific ideas and strategies to make writing clear and persuasive. Writers are encouraged to take notes while readers are responding, and each writer has a chance to ask specific follow-up questions. Kerri comments, "These events offer writers a glimpse inside the minds of their readers, which can be very enlightening!"
---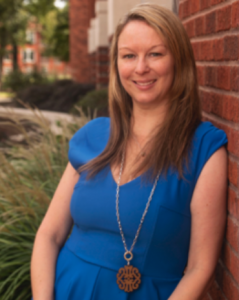 For more information on any of these topics, please contact Kerri at flinchbaughk@ecu.edu or visit our Professional Writing Consultation page.