Professional Writing Consultation
Our Professional Writing Consultation service assists faculty writers from health-related programs at ECU with projects such as peer-reviewed articles, grant proposals, conference presentations, and other scholarly writing projects.
---
About Writing Consultations
Because "good writing" is context-dependent, learning to be an effective writer is a life-long pursuit. All writers benefit from focused conversation and feedback on works-in-progress. Laupus Library's Professional Writing Consultant works with faculty writers from health-related programs to strengthen their works-in-progress, sharing feedback, strategies, and resources for developing healthy, sustainable, and productive writing habits.
As a writing consultant, Dr. Kerri Flinchaugh brings rhetorical and pedagogical lenses, a myriad of writing resources, knowledge of scaffolded writing support, and a curious mind to each consultation. She operates on the belief that to be successful, writers must be able to anticipate the effects of their words on readers. Kerri aims to assist you in improving a specific text while also teaching writing strategies that can be applied to future writing projects. This service is not remedial; rather, it is an additional resources for faculty who wish to become even better writers.
About the Consultation Process
Kerri works with writers to set goals, address areas of concern, and prioritize writing tasks. Topics discussed in consultations may include things like identifying patterns of errors found in texts, examining mentor texts to scaffold organization, and revision and editing strategies. You can expect to leave your consultation more prepared to take your writing project to the next level with thoughtful feedback, an array of strategies, and a plan for further developing or revising your writing.
To schedule an appointment, email Kerri Flinchbaugh at flinchbaughk@ecu.edu. She will ask you to prepare for your writing consultation by completing a brief intake form and sharing your texts ahead of your appointment. The writing consultant supports faculty writers from health-related programs at any point in the writing process. She also offers face-to-face appointments along with asynchronous and asynchronous online feedback sessions.
About Other Forms of Support
In addition to one-on-one and small group meetings, the consultant offers writing groups and peer review sessions on a regular basis. Writing Accountability Groups (WAGs) provide the structure of a committed group to touch base with on a regular basis while using principles of motivation, goal setting, and social support to help develop and maintain good writing habits and make consistent progress.
Critical Friends is a peer review protocol that supports the development of specific ideas and strategies to make writing clear and persuasive. The consultant schedules Critical Friends events for the fall and spring semester.
Contact Kerri for more information on WAGs and Critical Friends.
About Kerri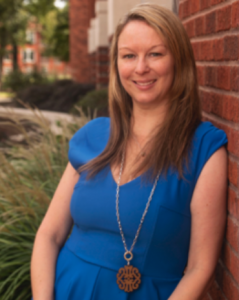 Kerri is the Assistant Director of East Carolina University's Writing Program where she primarily works with faculty from across the disciplines with teaching and integrating writing within their teaching. Kerri has spent years assembling a toolbox of resources and strategies to help writers say what they want to say in a way that resonates with the reader. Graduating with a PhD in Writing, Rhetoric, and Professional Communication in spring 2020, Kerri's research interests include writing across the curriculum faculty development, writing center and program administration, identity theory, transfer of writing skills, and threshold concepts across the disciplines.
Contact Kerri for help with your writing project.