One Button Studio
The One Button Studio @ Laupus Library is a simplified video recording setup that can be used without any previous video production experience.
---
Recording a video in the One Button Studio takes just 3 simple steps:

---
---
About the Studio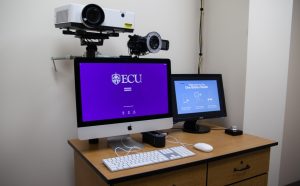 The design of the studio allows you to create high-quality video projects without having to know anything about lights, microphones, and cameras. You only need to bring a USB flash drive to store your recorded video.
The One Button Studio includes ceiling-mounted lights, a video camera, projector, and a green screen. The custom software makes using this equipment and recording your video as simple as pressing one button so you can focus on creating your content.
The One Button Studio drastically simplifies the video production workflow by eliminating several time-consuming steps. The end result is a studio experience that requires the bare minimum of time and effort while simultaneously providing a consistently high-quality result packaged on a USB flash drive in a standard MP4 format video file.
---
The One Button Studio @ Laupus Library is made possible with documentation and software made available by The Pennsylvania State University.