Our History
About Our Namesake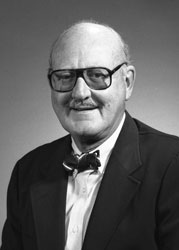 Dr. William E. Laupus (1921-2005)
We are named for Dr. William E. Laupus, M.D. Dr. Laupus received his medical degree from Yale University in 1945. In 1976, he became the dean of the School of Medicine at East Carolina University and began work to turn the unaccredited medical school from a two year school to a fully accredited 4 year program. Dr. Laupus witnessed the graduation of the first class from the School of Medicine in 1981. He guided the construction of what is now the Brody School of Medicine building from 1985-1988.
Dr. Laupus was the dean of the School of Medicine from 1975-1988. He was a University Vice Chancellor from 1982-1987, and Vice Chancellor for Health Sciences from 1987-1989.
A Brief History
We began as the Health Affairs Library which was established in 1969 with Dr. Jo Ann Bell as its director. Our mission was to serve the fledgling School of Health Affairs. Our collection was started with only one professional librarian and 12 tons of donated books. Throughout the years, we've grown to serve ECU Health Medical Center (formerly Vidant Medical Center, and Pitt Community Hospital) and, through EAHEC, health care professionals across Eastern North Carolina.
We have moved four times in our history. We moved from the old cafeteria building to the Biology Building (1970), to the Belk Building (1972), then to the Brody Building (1981). Finally, in 2006, we moved to our current location, the Health Sciences Building. The Health Sciences Building is a 300,000 square foot, state-of-the-art educational center that we share with the College of Allied Health Sciences and the College of Nursing.
View a complete timeline of our history